Sun, 19 June 2016
Emmy Podcast #13: Emmy Submission Ballots, Guest/Writing/Directing Categories
The submission ballots for the 2016 Emmys are in and voting has begun. This podcast I have brought back Vox.com culture editor Todd VanDerWerff and AwardsWatch Emmy Experts Jonathan Boehle to break down some of the submission list, concentrating on the Guest, Writing and Directing categories since those give us actual episodes before the nominations are announced.
We also talk a bit about how/if the new rules enacted this (and last) year will affect the upcoming batch of nominees and dig a bit deeper into categories like Lead Actor in a Drama Series as well as venture into the issue of race and awards. After two years of #OscarsSoWhite, are the Emmys much farther ahead on this? Will the Emmy success of black-ish, Roots and The People vs O.J. Simpson: American Crime Story be the story of the day come nominations next month?
All this and much more on this issue of the AwardsWatch Emmy Podcast.
---
Sat, 21 May 2016
Emmy Podcast #12: Drama and Comedy Category Predictions
In our last Emmy Podcast, Vox.com's Todd VanDerWerff and I broke down the TV Movie and Limited Series predictions and got a little bit into the Drama and Comedy but here, on this 12th Emmy Podcast I am joined by fellow Emmy Expert Federico Artico for a deeper dive.
We discuss how open the Lead Actress in a Comedy Series category is with three of last year's nominees out of the running, the rise of black-ish and possibly Mom in Comedy Series and if Silicon Valley can break through in the acting categories. Plus, can anyone possibly beat Veep's Julia Louis-Dreyfus?
In drama we talk about if Mr. Robot can really get nominated or if it will end up like Orphan Black and we discuss who we think is winning Drama Series this year. Will Game of Thrones continue to reign or will this election year see one (or possibly two) White House-based shows win the top prize.
Plus, The Americans. Always, The Americans.
---
Fri, 25 March 2016
Emmy Podcast #11: TV Movies and Limited Series' Take the Front Seat
In our first Emmy podcast for the 2015/2016 television season, I am joined by Vox.com's Culture Editor Todd VanDerWerff for a deep dive into this year's Emmy predictions.
With TV Movies, Miniseries and Limited Series dominating the attention and airwaves for the last couple of years (this year in particular) the majority of our conversation circulates around these categories. American Crime, American Horror Story Hotel, The People v O.J. Simpson: American Crime Story, Fargo, Roots, Show Me a Hero...all worthy contenders vying for spots.
We end with the state of Drama and Comedy Series and how streaming has become the norm for nominations and could it keep going? Will Hulu join Netflix and Amazon to continue pushing out network and cable?
Will the Emmys FINALLY embrace The Americans outside of Margo Martindale? The Leftovers? What about Better Call Saul - was the first season nom haul just Breaking Bad runoff or will its second season earn them on its own?
Find out, on the AwardsWatch Emmy Podcast.
---
Tue, 14 July 2015
Emmy Podcast #10: FINAL Predictions! Everything Must Go!
In this final Emmy predictions podcast before the nominations are revealed on Thursday by So You Think You Can Dance's Cat Deeley and Orange is the New Black's Uzo Abuda (an Emmy winner in Guest last year), Awardswatch Emmy Experts Chris Pepper and Peter Cioth join me, Erik Anderson, to continue on from last week's podcast (with Vox.com's Todd VanDerWerff) to dig into the TV Movie/Limited Series, Variety and Reality categories.
Not satisfied there, we go back into the Drama and Comedy categories for some deeper analysis.
Don't forget to follow us on Twitter at @awards_watch and head over to our Emmy Predictions pages for full predictions on all major categories in Drama, Comedy, TV Movie/Limited Series, Variety and Reality.
---
Tue, 23 June 2015
Emmy Podcast #9: Mad Men, Big Bangs and Transparent Virgins
In the first Emmy prediction podcast of the 2014/2015 season (I know, I know...), Awardswatch Emmy Experts Chris Pepper and Jonathan Boehle and myself, Erik Anderson, are honored to have AW alum and Vox.com Culture Editor Todd VanDerWerff join us as we deconstruct the Emmy submission ballots released last week and figure out if Orange is the New Black will suffer or benefit from its category switch from Comedy to Drama. We also take a look at the Guest categories in both Drama and Comedy and see how the 50% rule will affect those categories.
Later on we talk about the rise and fall of Netflix from last year to this year and how its Emmy season could end up and discuss the campaign games of HBO, Showtime and FX as well as if Mad Men will go out with a bang or a whimper. Todd makes his case for FX's The Americans to have a breakthrough year and I commit that Amazon's Transparent will be an Emmy nomination juggernaut.
Don't forget to follow us on Twitter at @awards_watch and head over to our Emmy Predictions pages for full predictions on everything from Variety Series, Reality Host and TV Movie/Limited Series acting categories.
---
Mon, 18 August 2014
Emmy Podcast #8: FINAL Winner Predictions feat. Breaking Bad, Orange is the New Black, The Good Wife and True Detective
Settle in folks, this Emmy winner prediction podcast clocks in at 2h 30m. I know, I know, but we tried! Emmy Experts Chris, Peter and myself dig deep into the TV/Miniseries categories (Fargo or The Normal Heart? Sherlock?!), Comedy (Will Orange is the New Black unseat Modern Family?) and Drama (an epic battle between Breaking Bad and True Detective).
As per usual for AwardsWatch, the Lead Actress (Drama) category becomes a fight as Erik fights for his #1 placement of Robin Wright against the slings and arrows of Chris and Peter.
So, grab a cocktail or go for a long drive for this epic podcast that you'll need to hear before the Emmys next Monday!
---
Sun, 6 July 2014
Emmy Podcast #7: FINAL Predictions! No one is safe!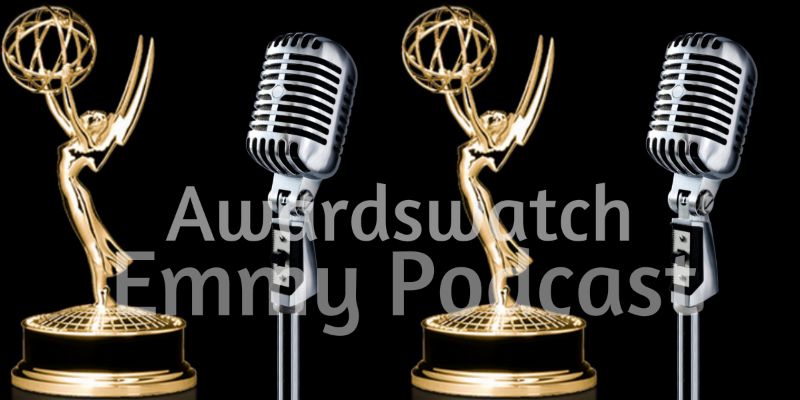 Despite Chris and Erik being members of the Getalong Gang of similar Emmy predictions, there's still a lot of conversation to be had and even some votes changing mid-podcast! How poorly will Mad Men do? Can Showtime pull off a big haul for Masters of Sex? Will Orange is the New Black be the one to topple Modern Family?
Find out, on the AwardsWatch FINAL Emmy Prediction podcast.
---
Sat, 21 June 2014
Emmy Podcast #6: Drama, Miniseries, TV Movie/Mini Lead, Writing Predictions
In this podcast Chris, Peter and Erik discuss the Emmy Drama categories in full (Series, Writing, Directing, Lead, Supporting and Guest Performances) as well as Miniseries and the Writing and Lead categories within the TV Movie/Miniseries section.
With so many categories up for grabs and a finite amount of nominations (or are there?) someone will be snubbed. Will former Best Drama Series winners Mad Men and Homeland lose their hold on nominations in favor of newbies True Detective and Masters of Sex? What about The Good Wife? Have they really blundered their campaign to return to a Drama Series nomination?
The Lead Actress in a Drama Series seems to be the category giving us (and most Emmy predictors) the most grief. With last year giving us seven nominees, will we see that again? Or will it be six with someone left off the list? We talk about Tatiana Maslany's chances, who's on the outs and was Scandal's Kerry Washington a one-and-done nomination.
---
Sat, 14 June 2014
Emmy Podcast #5: Comedy, TV Movie, TV Movie/Mini Supporting, Directing Predictions
In this podcast, Erik, Jonathan and Nicole discuss their predictions in the Comedy categories as well as TV Movie, TV Movie/Mini Directing and Supporting categories. Any more and you'd be listening for three hours. We'll be breaking the Emmy prediction podcasts into two parts, next week will be Drama categories, Miniseries, TV Movie/Miniseries Writing and Lead categories.
Today we discuss whether Modern Family can be toppled and kept from a record-tying five wins in Comedy Series and by whom? Orange is the New Black? Veep? Brooklyn Nine-Nine? Does Showtime's move of Shameless from Drama to Comedy help or hurt it and can the network get THREE Lead actors in Comedy?
---
Sat, 29 March 2014
Awardswatch Emmy Podcast #4: March 2014 Predictions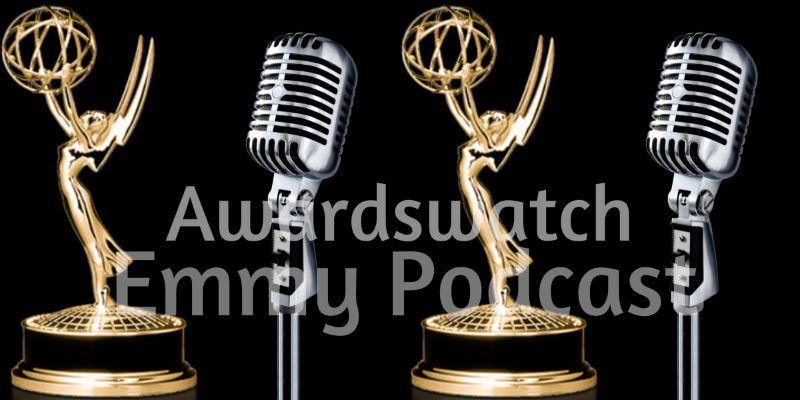 In this podcast, recorded March 29, 2014, Awardswatch Emmy Experts Erik, Chris and Jonathan discuss their early predictions for the 2013/2014 Emmy season. How will HBO's decision to put True Detective into Drama Series affect its chances? Will The Good Wife see an Emmy renassiance? All that and more right here on the Awardswatch Emmy Podcast.
---