Sat, 11 April 2015
Oscar Podcast #24: A New Season Begins with Carol and Joy and the Dying Girl
It's a new Oscar season (yes, in April) and we're back with the Awardswatch Oscar Podcast. This year saw some shakeup in the Gold Rush Gang and I welcome the return of Long Pham and congratulate newcomer Adam Norbury to the group.
In this first podcast we talk about (very) early 'frontrunners' like Carol, Joy and The Danish Girl as well as explore possible nominations for The Revenant's Leonardo DiCaprio, Demolition's Jake Gyllenhaal and Me and Earl and they Dying Girl's Olivia Cooke.
We also look at the recent announcement that AMPAS's Board of Governors might be considering a return to a 5-nominee slate for Best Picture and how we feel that's going to shake down as well as our personal opinions on it.
This is a short podcast (1hr 15m-ish), a record for the Awardswatch Oscar Podcast. But don't get used to it. It's early.
---
Mon, 16 February 2015
Oscar Podcast #23: FINAL Oscar Predictions...AHHH!!!!!
In Oscar podcast #23, Gold Rush Gang member Peter Cioth and myself, Erik Anderson, tear through all 24 Academy Awards categories to find the answer to the single question, "Who Will Win?"
While many categories seem locked and loaded (how could anything beat The Grand Budapest Hotel in Production Design or Julianne Moore in Best Actress?) not only do we have lower-tier categories up in the air, the BIG ones are too. Best Picture and Best Director are a juggling, jockeying back and forth of Boyhood or Birdman, Linklater or Iñárritu. And every combination between them. The problem is...they ALL make sense. What we do know is that no matter which of two wins we'll be looking at a new stat, a new precedent and something to talk about in future races besides Ordinary People or Apollo 13!
So sit back and listen as we discuss the seriousness of this Oscar dilemma and hopefully, enjoy.
---
Sun, 1 February 2015
Oscar Podcast #22: Michael Keaton or Eddie Redmayne? Birdman or Boyhood?
Living in a post-SAG, post-PGA world our Oscar race has been turned upside down. In this podcast Gold Rush Gang member Peter Cioth, For Your Speculation's Rachel Schwartz and myself, Erik Anderson, embark on a prediction path of uncertainty and excitement as two industry guilds threw two major categories into a whirlwind of possibilities. Can Birdman overtake Boyhood in Best Picture? Does Eddie Redmayne's SAG win (and likely BAFTA win) make Michael Keaton a runner up? And how does American Sniper fit into all of this? Plus, we reveal that Rachel's dad is actually a secret AMPAS member. Ok, not really, but boy do his predictions and opinions sure sound like one. Sit back and enjoy Oscar Podcast #22 from AwardsWatch.
---
Wed, 7 January 2015
Oscar Podcast #21: The Guilds, BAFTA nom predictions and Golden Globe winner predix
It's crunch time, just a week away from Oscar nominations and we have a whole slew of guilds to talk about (Writers Guild, Art Directors Guild, Producers Guild!) plus the curious cases of the Selma snubs and the rise of American Sniper, the resurgence of Foxcatcher and if Whiplash and Nightcrawler are really running as neck and neck as they seem and if the former last-minute category change will affect its Oscar chances.
But we're not done there; we have BAFTA nomination predictions and our Golden Globe winner predictions featuring some disturbing possibilities in the form of someone who rhymes with Yennifer Yaniston.
---
Sat, 13 December 2014
Oscar Podcast #20: Post-SAG and Golden Globe Nominations (special guest Clayton Davis)
Well, the Screen Actors Guild and the Golden Globes announced their nominations this week and shocked us with noms for both Jake Gyllenhaal in Nightcrawler and Jennifer Aniston in Cake, throwing the race a fantastic curve ball as we start to enter the nitty gritty of awards season. Veteran actor Robert Duvall also hit both precursors (for The Judge) and is now a formidable opponent in Best Supporting Actor.
On this podcast, Gold Rush Gang member Peter and myself welcome Awards Circuit founder and editor Clayton Davis as a guest for the first time. He has a lot of insight on the race, how things might play out at the BFCA (of which he's a member) and the three of us discuss how the above-mentioned three will change the game.
We get into the rise of The Grand Budapest Hotel and the likely Oscar coming out party for Wes Anderson, original screenplay gets a lot of talk as does Selma and the Golden Globe snubs of Unbroken and American Sniper.
---
Sat, 6 December 2014
Oscar Podcast #19: LAFCA, SAG, Golden Globes, Oh My!
In this juicy edition of the AwardsWatch Oscar Podcast, Richard and I dive deep into the Los Angeles Film Critics Awards (tomorrow!) and our nomination predictions for the Screen Actors Guild and the Golden Globes happening next week.
At LAFCA we talk about the potential battle for Best Actress between Julianne Moore in Still Alice (and possibly Maps to the Stars) and recent NYFCC winner Marion Cotillard for Two Days, One Night (and possibly The Immigrant). Mr. Turner, Timothy Spall (also the recent NYFCC winner) and Mike Leigh come up as heavy favorites and I push Scarlett Johansson in Under the Skin as a possible alternate in Best Actress.
With SAG there is a lot of agreement between Richard and myself as well as with the Gold Rush Gang. Selma seems to be the question mark since Paramount didn't get screeners to voters due to the film being locked too late. How much will that affect the film's chances in Cast and Best Actor?
Over at the Golden Globes there is a lot of agreement in many categories but with Angelina Jolie's Unbroken a bit up in the air. Many of the GRG have Jolie in Best Director but I wonder if those predictions aren't as updated as they could (or should be). I have her in, and the film everywhere, in spite of the very mixed reception its gotten since its premiere. But this is the HPFA and they're going to want their star wattage.
All that and more on this podcast.
---
Fri, 28 November 2014
Oscar Podcast #18: Indie Spirit Noms, NYFCC & NBR Predictions
In this podcast Richard, Matt L. and I discuss the Film Independent Spirit nominations from this week; who got snubbed (The Imitation Game!) and who made a big play in the race (Selma!). We break down the categories to find a 30th Spirits Awards with a bit of a throwback to its early days to truly indie picks like Kumiko, the Treasure Hunter. We talk about the hows and whys of Harvey Weinstein's failure to secure a single nomination for The Imitation Game and will it be a bellwether for the season to come. And what happened in the Best Screenplay category?
Then we dig into the two critics groups announcing next week; the New York Film Critics Circle on Monday the 1st and the National Board of Review on Tuesday the 2nd. Lots of Boyhood predictions, which is to be expected from the best rated film of the year. Also across the board predictions for Michael Keaton (Birdman) for Best Actor, Julianne Moore (Still Alice) for Best Actress, J.K. Simmons (Whiplash) for Best Supporting Actor but a split in Best Supporting Actress that finds a battle between Jessica Chastain for A Most Violent Year and Patricia Arquette in Boyhood but with a fun prediction from Matt L. You'll just have to listen to the podcast to find out who.
---
Sun, 16 November 2014
Oscar Podcast #17: AFI - Selma Soars, American Sniper Shoots Blanks
Big happenings with some major premieres of Oscar hopefuls at AFI this last week in the form of Selma, American Sniper and A Most Violent Year give the Gold Rush Gang (Richard, Jason and myself, Erik) a lot to talk about in this podcast. We discuss the mixed test screening (attended by a trio of AwardsWatchers) that led to some frantic predictions changes to a complete reversal after its stellar debut at AFI. American Sniper didn't fare as well and might be out the majors as a result and A Most Violent Year gets the reviews it needed to stay in the race.
We also discuss various tech predictions like Cinematography, Film Editing, Visual Effects and the Sound Categories. Is once frontrunner Interstellar out of the running here? Will a Best Picture frontrunner find itself with a few extra tech noms to pad its total? Can Roger Deakins finally win?
We end with some Independent Spirit Awards talk and predictions. Those are announced on Tuesday the 25th (not the 24th as I keep mentioning in the podcast) and we'll have a follow-up podcast post-nominations and before the wealth of critics awards start rolling in during the first week of December.
---
Wed, 29 October 2014
Oscar Podcast #16: Where Have Selma and Unbroken Gone?
In this new Oscar podcast, Erik, Kenneth, Matt M and Peter discuss where Selma and Unbroken are in the race. Have they fallen? Are they steady? With a handful of AwardsWatch members having just seen the first and only Selma screening, there's lots to tell and lots to talk about.
We also take a crack at the juicy Best Actor category, overflowing with potential contenders with Michael Keaton in Birdman, Eddie Redmayne in The Theory of Everything, Jack O'Connell in Unbroken and Sony Pictures Classics' dilemma of too many players. Of course, we also talk about Best Actress and just how locked Julianne Moore is for Still Alice.
Later we talk about the resurgence of Into the Woods and its Best Picture chances and ponder some of the documentary and foreign language film contenders.
---
Thu, 28 August 2014
Oscar Podcast #15: Venice, Telluride and TIFF festivals; Birdman, A Most Violent Year, Wild, The Imitation Game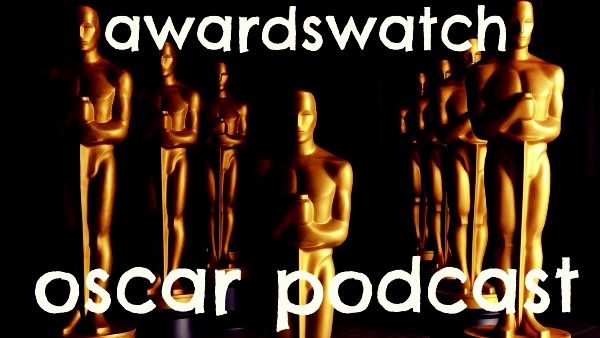 In this podcast, Peter and Jason (Dirk Diggler!) join Erik to discuss the flurry of fall festivals, including the just opened Venice Film Festival which began with rapturous reviews for Alejandro González Iñárritu's Birdman. We also venture into Telluride and TIFF (which Jason is attending), discuss Harvey Weinstein's track for The Imitation Game and the recent first test screening (attended by AwardWatch members) of A Most Violent Year starring Oscar Isaac and Jessica Chastain. That breaks into a discussion of Supporting Actress which covers Chastain, Patricia Arquette, Laura Dern, Keira Knightley and Carmen Ejogo (which itself breaks off into a conversation about Selma). And all in under an hour and a half! Bonus!
---