Sat, 14 June 2014
Emmy Podcast #5: Comedy, TV Movie, TV Movie/Mini Supporting, Directing Predictions
In this podcast, Erik, Jonathan and Nicole discuss their predictions in the Comedy categories as well as TV Movie, TV Movie/Mini Directing and Supporting categories. Any more and you'd be listening for three hours. We'll be breaking the Emmy prediction podcasts into two parts, next week will be Drama categories, Miniseries, TV Movie/Miniseries Writing and Lead categories.
Today we discuss whether Modern Family can be toppled and kept from a record-tying five wins in Comedy Series and by whom? Orange is the New Black? Veep? Brooklyn Nine-Nine? Does Showtime's move of Shameless from Drama to Comedy help or hurt it and can the network get THREE Lead actors in Comedy?
---
Tue, 27 May 2014
Oscar Podcast #13: Post-Cannes Predictions
In this podcast, Erik, Peter and new Gold Rush Gang member Matt L. discuss the Cannes Film Festival and its winners and losers and how it will affect the Oscar race. We also discuss our current Oscar predictions, featuring Foxcatcher, Unbroken, Angelina Jolie, Julianne Moore, Harvey Weinstein and Fox Searchlight.
---
Sat, 19 April 2014
AwardsWatch Oscar Podcast #12: April 19, 2014 - Cannes Film Festival Announcement and First Oscar Predictions
In this Oscar podcast Erik, Peter and Richard discuss the Cannes Film Festival lineup for 2014 and how it may affect or reflect the Oscar potential for films like Foxcatcher and The Homesman. We also analyze our first predictions of the season and compare them with the forum polls, featuring Gone Girl, Big Eyes, Interstellar and A Most Violent Year. There also might be a little bit of shade directed at Gold Rush Gang member Jason, aka Dirk Diggler. Enjoy!
---
Sat, 29 March 2014
Awardswatch Emmy Podcast #4: March 2014 Predictions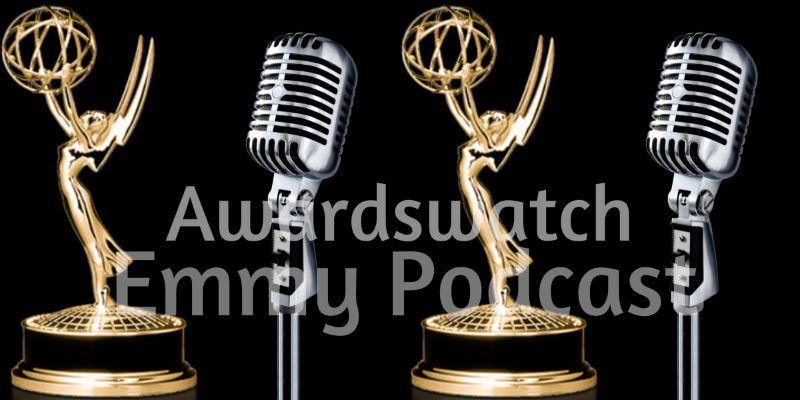 In this podcast, recorded March 29, 2014, Awardswatch Emmy Experts Erik, Chris and Jonathan discuss their early predictions for the 2013/2014 Emmy season. How will HBO's decision to put True Detective into Drama Series affect its chances? Will The Good Wife see an Emmy renassiance? All that and more right here on the Awardswatch Emmy Podcast.
---
Wed, 26 February 2014
AwardsWatch Oscar Podcast #11: FINAL Oscar Predictions!
In this epic Oscar podcast, recorded February 25th, 2014, Erik, Ben, Kenneth and Peter discuss their final Oscar predictions, possibly change their minds in the middle of the conversation. Meanwhile, Erik forgets 12 Years a Slave isn't nominated for Original Score, Cate Blanchett gets unironic love from the group and one of the straight guys throws the biggest shade?
Settle in folks, because this 'cast clocks in at 2h 25m. But it's so worth it.
---
Wed, 12 February 2014
Oscar Podcast #10: Wednesday, February 12, 2014 - BAFTA Preview and Predictions
In this podcast, Erik and Peter discuss their BAFTA predictions plus mull over the recent surge by Captain Phillips in some very important precursors. Oh, and Erik's house catches fire.
---
Tue, 14 January 2014
Oscar Podcast #9: January 14, 2014
In this epic podcast, recorded Monday, January 13, 2014, Erik and Kenneth discuss the recent Golden Globe winners and make our final Oscar nomination predictions. Wigs are flying so sit tight.
---
Sat, 11 January 2014
AwardsWatch Oscar Podcast #8: January 11, 2014
On this podcast, recorded Friday, January 10, 2014, Erik, Ben and Long discuss the DGA and BAFTA nominations and their predictions for the Golden Globe winners this Sunday.
---